General Information
Breeze Demoparty 2007 will take place in Lisbon from friday 16th to sunday 18th of February. We hope to do a great demoparty, and for that we need a lot of demos and a lot of party. So join us!
The entrance is free for girls (visiting, not participating) and foreign sceners, so if you're reading this you probably won't pay!
Compos
Without enough entries some compos will be fused so there is a better competition;

Prods will be faded/cut at 5 minutes if we have no time to show them all;

Prods will be run at the machine they're intended to run, unless it's not possible. In that case prods will be shown using an emulator;

By LowEnd the organising team intends computers with 16 bits or lower processors and portable machines. Some examples: Atari ST/STF/STE, Commodore 64, ZX Spectrum, Gameboy, Nintendo DS, PSP, palmtops, cellphones. Other computers will be considered HighEnd;

All entries will be hosted at the Scene.org servers, under Creative Commons license;

Remote entries will be accepted, but won't receive a prize if such exists. This entries should be sent to an email or ftp to be set in the future.
Demos

HighEnd Demo

the content of the demo must not exceed 16MB

HighEnd 64KB Intro

the intro must be a single executable file with 64KB or less

HighEnd 4KB Intro

the intro must be a single executable file with 4KB or less

LowEnd Demo

the content of the demo must not exceed 8MB

LowEnd Intro

the intro must be a single executable file



Music

Chiptune

XM, IT, MOD, S3M, SID, NSF, FTM, SND, SID, EXE... the size should be less than 64KB and executable songs will be accepted

Tracked Music

XM, IT, MOD, S3M, SID, NSF, FTM, SND, SID...

Streamed Music

WAV, OGG, MP3, bitrate should be greater than 192Kbps



Graphics

the picture format should be PNG;

a list of the used techiniques should be included;

at least four steps of the creation should be included;

animations won't be accepted.



Fast Compos

the rules will be presented during the party.



Wild

anything that runs on a computer and doesn't match the above compos (musicdisks, games, animations, videos...).
Anyone at the party has the right to vote in every compo. We hope it will be done in a civilized fashion.
Location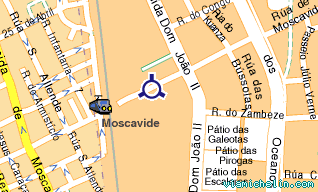 click the picture and use the following address
to find the partyplace:
Via de Moscavide 47 101
Lisbon
Arround the partyplace you can find:
lawns (you can play football!)
a skatepark (you can bring your skate!)
a casino (you can get poorer!)
a large mall (you can get booze and see the local girls!)
bars (you can get more booze!)
subway (you can get to see the city!)
trainstation (you can get here!)
...and there's even an airport arround (4km)
Room for about 26 computers, with comfortable chairs, you're advised not to bring your computer if you don't need it;

Small yard as chillout zone;

Bar, toilets;

Free parking nearby (not exclusive);

Auditorium for presentations;

It wasn't possible to get an isolated place to sleep. So if you're thinking in sleeping, you may do it nearby the computers, or rent a room (contact the orga team for more info).
Time Table
The scheduled events can change during the party.
Rules
It's not allowed to smoke inside the partyplace;

No porn, no games;

We are not responsible for your equipment during the party;

Behave like a civilized person.